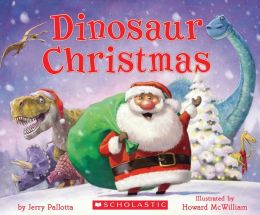 We get some of the most adorable picture books through the library. I was looking through some of our new ones the other day and I came across these lovely non-traditional Christmas stories.
Dinosaur Christmas
After he gets a postcard from a little girl, Santa Claus reminisces about all the trouble he had when dinosaurs pulled his sleigh
The Christmas Show
It's Christmas and the children have been practicing very hard for their nativity play. The narrators are word-perfect, the Important Angel has brushed her hair and the audience are in their seats. But when the curtain rises, no one's expecting a spare shepherd to steal the show.
Kangaroo for Christmas
The day before Christmas, Kathryn's present from Uncle Dingo arrives in a big box. Naturally, it's a lively kangaroo. Kathryn can't wait to show grandma, so she hops onto Adelaide's back and off they go! But getting to Grandma's proves more difficult than expected. Honking horns and screeching brakes frighten Adelaide into taking off on her own.